According to a report by Online Labor Index published by the Oxford Internet Institute (OII) in 2017, Pakistan is the 4th most popular country for freelancing. Freelancing in Pakistan is a better option for those who want to work remotely. Pakistan's economy is growing tremendously through the freelance industry, and an increasing number of Pakistanis are taking advantage of this growth.
When COVID-9 hit everywhere, overall World economy faced worst downfall. Most of workers then found the option to work remotely from their homes. In Pakistan as well, majority of youth preferred to learn online skills and start freelancing. They have found the best opportunity to learn online and offer their services to the foreign clients. So they are earning a handsome amount in return.
Businesses, all over the globe, found uncertainty in their performance due to the pandemic situation. Therefore, they started relying on outsourcing their services. And freelancers got the chance to serve them accordingly. According to Deel's report in 2022, a Pakistani freelancer's average earning is about Rs.6 million per annum.
With huge potential in information technology and related skills, our youth in Pakistan can work online as freelancers and offer their services to foreign clients. Pakistan is a country full of talent, much of which is hidden that needs to be explored. Every year, thousands of new ideas are launched into the marketplace, but as an entrepreneur, how do you find those new breakthrough ideas?
If you are going to start freelancing, know that your job isn't over once you have finished your work. You're now going to find more clients, serving the returning clients and make a stronger portfolio. You must be a guru in your skill. It means you must have complete grip on your specific skill so that you can satisfy your clients. You must keep your customers happy while also motivating your freelance workforce.
First, it's flexible. When you work as a freelancer, you have the freedom to determine when, where, and how do you start and accomplish the job. You can also work on many projects for different clients at the same time. Actually, you're your own boss!!
Make your future bright by working as a freelancer
There is no need to work for 9 to 5 hours just like a traditional job. Instead, a freelancer has the option of flexible working hours.
Working for free is a well-known practice among new freelancers to make their portfolio. Therefore, many potential clients prefer to hire new freelancers because they are getting someone who will work for free, which — in practice — means they'll not have to pay. Most working professionals would have encountered the concept of trading work for experience at some point in their life. It's generally frowned upon, and there's rarely much clear evidence that it leads to any long-term benefits.
Freelancing as a career is a new trend which is becoming a popular option for young workers. A freelancer has the advantage of setting his or her own schedule and working from anywhere. Although a freelancer is an employee in a sense, he/she is not actually employed by one entity.
Individual contractors, freelancers, or consultants are self-employed business people. They perform individual tasks or work, without necessarily having a boss or co-workers.
After getting enough exposure in the freelancing industry, some of the freelancers establish their own freelance agencies. They hire people, train them according to their niche, and assign them with the tasks of various clients. Therefore, a freelance agency can earn a huge amount by winning more projects on different marketplaces. One of the best freelance agencies in Pakistan is JbWebSoft. They have successfully served global clients in the domain of Web Development, Mobile App Development, SEO, Graphic Design and eCommerce solutions.
Promote yourself in Freelancing
To advance your freelancing career, it's necessary to promote yourself. Promotion can be intimidating, but if you follow best practices. You'll be able to promote yourself without seeming desperate or overly self-promotional.
As a freelancer, you have to promote yourself as much as you do your work. Without that, your projects will never get off the ground. Make your social profiles in a professional way, join various relevant freelance groups and share your knowledge and expertise. Hence, you'll get attention of potential clients.
How to Create Freelancing Profile?
Freelancing is the practice of performing professional work without a regular contractual agreement. In some specific cases, freelancers may not need to be registered or licensed. This type of freelance work is taken through social media platforms.
In a freelance marketplace, a freelancer must be registered before start working as a freelancer. He or she must create a profile and show his/her skilled expertise to attract potential clients.
So what is freelancing in Pakistan? In Pakistan, freelancing as a profession is a growing trend. Young freelancers in the country have become significant contributors to the economy. Freelancing in Pakistan is just a beginning. However, it has tremendous potential.
How to Start Freelancing in Pakistan?
Do you want to work as a freelancer and start online working from home? You should know how to start freelancing in Pakistan. Let's take a look at how to establish freelance career in Pakistan, what are the challenges you face and what are the steps you need to follow.
Outline your Objectives before Start
Starting a freelance career can be daunting. Because there are so many things to think about, I do not recommend starting this way. Instead, you have to identify your goals first and outline your objectives before starting.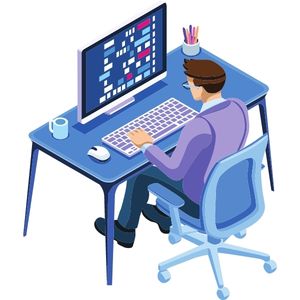 For example, your goal might be to earn a constant income of $2,000 per month. To begin, you should select a proper skill to learn. You can become a freelance writer, a graphic designer, a content marketer, a virtual assistant, a web developer, or offer any other type of service.
Have a strong work ethic – this is one of the most important things to have when working as a freelancer. You need to be able to show your clients that you are reliable and that you will get the work done on time.
Be flexible – another important quality to have as a freelancer is to be flexible. Your clients will likely have last-minute changes or requests, and you need to be able to accommodate them.
Be responsive — it's critical to be responsive to your clients in today's highly competitive environment. They must be aware that you are easily approachable and enthusiastic about your expertise.
Learn and Improve your Freelancing Skills
The modern world is now more dependent on freelancers. More people are switching over from their careers to being freelancers. The reasons for this are the flexibility, high earnings in a short time and independence in working.
Remember; don't ever rely on learning only once and sit aside. To be a successful freelancer, you must continuously improve your skills. Keep in mind the concept of Continuous Professional Development. Every skill is updated regularly with more advanced features, so you must update yourself accordingly.
Which Skill is Best for Freelancing?
Time management and communication skills are two soft skills most essential for freelancing in Pakistan. In Pakistan, freelancing is often done in conjunction with other work, such as running a small business or doing a small scale government job. This can make it challenging to juggle multiple responsibilities, but it can also be an advantage, as it gives freelancers the opportunity to build a network of contacts.
People management is the most essential skill required for freelancing in Pakistan. This includes the ability to communicate effectively, set boundaries, and manage time. Freelancers must be comfortable with numerous jobs and multitasking. They must also be able to work independently, take initiatives and be self-motivated.
When we talk about which skill is best for freelancing in Pakistan, you may consider the below mentioned broad categories. Explore them in detail on Fiverr for their relevant micro niche. Remember, the more you work on a micro niche, the more chances to win projects as a newbie.
Graphic design involves combining images and text in order to create media such as artwork, publications, and websites. Graphic designers typically create original artwork, but they may also perform graphic designing using pre-existing artwork.
Examples of graphic design works on Fiverr marketplace are Logo and Brand Identity, Gaming Art, Art and Illustration, Web and App Design, Marketing Material Design, Packaging and Cover Design, Visual Design, Architecture and Building Design, Fashion and Merchandise Design, Print Design, Product and Character Design, etc.
Digital Marketing is promoting and selling products or services using digital technologies. It is the process of implementing smart marketing strategies digital platforms. Digital Marketing experts and companies provide their services to businesses. Some of the Digital Marketing services include: Social Media Marketing, Social Media Advertising, SEO (Search Engine Optimization), SEM (Search Engine Marketing), and email marketing.
A writer needs to translate their own thoughts and ideas into language. His/her purpose is to communicate information through writing. A translator needs to translate what others say into another language. A translator's purpose is to communicate information through translation.
Writing services include articles and blog writing, sales copy, proofreading and editing, resume writing and cover letters, book and ebook writing, website content writing, product description, etc.
Video and animation are methods of recording moving images and images through animation. They are utilized generally in the entertainment industry to make motion videos. In Pakistan, there are many freelancers with video and animation skills. They often work in the entertainment industry to produce motion pictures or broadcast television shows. Some of these freelancers also work as independent contractors, providing their services to businesses and organizations.
Video editing, whiteboard animations, logo animation, intros and outros, 3D product animation, eCommerce product videos, product photography, NFT animation, and many others are included in this category of service.
Freelance service of music and audio is the most cost effective method to get music, audio or video services. One can find freelancers who are experts in audio, video, music production, or any mix, who can provide their services through online freelancing websites.
This niche includes voice overs, podcast editing, audiobook production, sound design, audio ads production, jingles and intros, audio editing, music transcription, meditation music, etc.
Programming and tech services refer to two different but relevant skills that work together when implementing new technology. Programming services provide businesses with the data and technology needed to implement new programs. Tech services provide those organizations with the technology needed to implement new programs.
Web development, games and app development, online coding lessons, cyber security and data protection, electronics engineering, NFT development, blockchain and cryptocurrency, data processing, data engeering, data science, etc. are all part of programming and tech services.
These services allow businesses to outsource their work. This is a popular option for companies who want to save on costs. By outsourcing their work, companies can avoid the overhead costs associated with maintaining a full-time staff. When companies need work done quickly, they often turn to freelancers. This is because freelancers are not bound by the same schedules and deadlines as full-time employees. By working with freelancers, companies can access a global pool of talent.
Business services offered by freelancers are virtual assistant, eCommerce management, market research, customer support and care, CRM management, ERP management, project and event management, business plans, financial and legal consulting, business and HR consulting, and many others related to day-to-day business activities.
These are highly helpful for businesses that require specific talents not generally available in their local workforce.
Learning Platforms in Pakistan
When you're sure of skill you are interest in, the next step is to learn and become an expert in that specific skill. Don't worry we are helping you out to guide towards some learning platforms. Most of the skills are available to learn online and free of cost. For learning, you can reach out to the following resources available online in Pakistan:
Digiskills is the large scale digital skills training program that has been launched by the Ministry of IT and Telecom through Ignite – National Technology Fund and executed by the Virtual University of Pakistan. This program aims to train 1 million people in Pakistan by providing knowledge and expertise in various specialized skill. You can visit the official website of Digiskills to further explore different training programs and apply online for your desired courses.
Punjab Information Technology Board (PITB) and Youth Affairs and Sports Department have started a skilled training program for those who are willing to work as freelancers. The program eRozgar has been established with the aim to provide training opportunities to youth for self-employment using internet technology. They are offering a variety of on-campus and online digital courses in this program.
Enabling Video Series (EVS) by Enablers is a learning platform where you can learn a variety of digital skills. This training program has been initiated by Saqib Azhar, a well-known entrepreneur in eCommerce industry, to empower the youth in Pakistan with the eCommerce skills.
This program opens the chances for everyone to learn and start entrepreneurial career by working with the world's biggest eCommerce marketplaces like Amazon, eBay, Etsy. Not only eCommerce trainings, there are many other digital skills being offered on this platform.
VBC Program by Extreme Commerce
So there is another great opportunity for those who want to build their career in the freelance industry. More eCommerce and freelance learning opportunities are offered in this training program. Video Boot Camp (VBC) is a training program designed by Sunny Ali on the platform of Extreme Commerce.
VBC is a collection of an extensive range of more than 150+ digital skills that our youth can learn and earn by offering their services to local and foreign clients.
There are many other mentors and trainers who are legends of the digital world. They always play a vital role to motivate our youth to start their freelance journey by learning digital skills. They are engaged in spreading their expert knowledge and mentoring our people on their YouTube channels. So don't miss the opportunity of free learning.
Below are few of the most famous YouTube channels along with the name of respective trainers:
Hisham Sarwar by Hisham Sarwar
Sir Hisham Sarwar, with over 20 years of experience, is a legend in the freelance industry in Pakistan. He is known for his best mentoring skills. You will find a variety of playlists on his channel "Hisham Sarwar". For every skill, there is a relevant playlist created on his channel for the ease of learners. The concept of freelancing, digital marketing, graphic designing, SEO, business development, copywriting, blogging, and many others are the famous skills being offered by him.
GFXMentor by Imran Ali Dina
Imran Ali Dina is well known professional who has extensive expertise of 21 years in the graphic design industry. He is imparting knowledge through his YouTube channel "GFXMentor". Adoble Photoshop, Adoble Illustrator, Adobe Premier Pro, and Adobe After Effects are the famous courses he is offering free of cost on this channel.
Ismail Blogger by Muhammad Islmail
Another well-known trainer in the industry is Muhammad Ismail. He is a professional blogger and a successful affiliate marketer. If you are interested in blogging and affiliate marketing then watch the relevant videos available on his YouTube channel "Ismail Blogger".
Azad Chaiwala by Azad Chaiwala
Azad Chaiwala is an entrepreneur and investor who motivates people to become entrepreneurs, and also make money online by learning different skills. He provides various business advices to promote the concept of start your own business.
HBA Services by Hafiz Abdul Basit
The YouTube channel "HBA Services" has been created by Hafiz Abdul Basit. This channel is known for providing knowledge about affiliate marketing, WordPress learning, date entry course, digital marketing, social media marketing, and so on
Freelance Websites in Pakistan
Many freelance websites in Pakistan are offering the opportunity of remote working.  Freelancers have a good chance to offer services as per their skillset and earn money by working from home. Below are few of the freelance websites in Pakistan where you can create and optimize your profile and encash your skills:
Fiverr

Upwork

Freelancer

Guru

People Per Hour

WorkChest
Freelancer Bank Accounts and Payment Methods in Pakistan
Earlier, there were no opportunities for freelancers in Pakistan to open a bank account with a specific source of freelancing income. But now concerned authorities in Pakistan have realized the importance of freelancing industry. Therefore, various commercial banks in the country are now offering freelancer accounts to facilitate the freelancers in Pakistan.
Meezan Freelancer Account
Meezan Bank is offering Meezan Freelancer Account. This account is a Rupee and Foreign Currency based personal account available in savings and current variant. This account has been specifically designed for the freelancers. Now freelancers can receive international payments directly into their bank account.
Bank Alfalah Freelancer Digital Account
Bank Alfalah Freelancer Digital Account has been specifically designed to facilitate the freelancers in Pakistan. This account is offered with two variants current and saving. Freelancers can directly receive funds in their bank account in a more convenient way. A freelancer can apply online for account opening on their website.
JS bank is now offering digital account for freelancers in Pakistan. Six approved freelance platforms are supported by the JS bank are Fiverr, Upwork, Toptal, Freelancer, Guru, and Flexjobs. Freelancers can apply online on their website for account opening.
United Bank, Faysal Bank, and few more banks also offer bank accounts for freelancers in Pakistan. Visit their respective websites and learn more about their concerned requirements for account opening.
FinTech Companies in Pakistan
Apart from regular commercial banks, many FinTech companies have been setup in Pakistan. "Finance" and "Technology" have made the term FinTech. This a fastest growing technology innovation that offers fast and reliable financial services. It facilitates the concept of cashless transactions. These FinTech startups are facilitating banking services in the country.
There are more than 200 FinTech startups in Pakistan. The freelancers have to open online digital account with these services, install their mobile apps and apply for the virtual/physical debit card. So they can use this card for online payments and receipts. The most leading ones are:
Sadapay

Nayapay

Easypaisa

Jazzcash

Keenu

Upaisa
PayPal is one of the leading payment gateways that facilitate online transactions across the globe. It is popular on various eCommerce and freelance marketplaces. But unfortunately, PayPal is not officially available in Pakistan due to some regulatory restrictions by the State Bank of Pakistan.
Payoneer is a financial services company that facilitates online payments on various marketplaces and financial platforms across the globe. This financial service allows freelancers to receive payments from their clients and transfer the funds to their respective bank accounts. Fortunately, this service is working well in Pakistan.
Create and Share your Freelance Portfolio
Once you have decided on the type of freelance service you want to offer, created a profile on freelance marketplace and selected the payment method, you need to create a portfolio. The best way to showcase your freelance portfolio is by making it available not only on your resume, but also on your own website or blog.
Your website will be your hub on the web, where you list all of your work, make your contact information visible, and share information about yourself, such as your education and experience.
If you love to start freelancing as a writer, you first need to understand everything about writing. Then create a portfolio of your writing samples. If you want to be a web developer, you need to create a portfolio of your work. You can create a portfolio by creating a website or a blog and showcase your work there.
Once you have created a portfolio, you need to start bidding on projects. You can find projects on freelancing websites like Upwork, Freelancer, Guru and WorkChest. You can also search for the potential clients on Google. By networking with other freelancers or by attending freelancing events, there is a great opportunity to find your clients. Always do your research before starting the job and work only with reputable and trusted clients.
Improve your Communication Skills
Communication plays a vital role in freelancing. A successful freelancer constantly communicates in such a way that potential clients are given the opportunity to influence them. In fact, speaking is the basic element of communication. Communication means to exchange, use, understand, appreciate, and acquire ideas, feelings, and information. Therefore, effective communication is the key of success in your freelance career.
Choose Right Platform to Start Freelancing
Many new freelancers find it difficult to launch their careers in the freelancing industry. The core problem is that they lack sufficient exposure. In addition, new freelancers are not confident enough to take initiative on their own. They get nervous and waste their time on various random activities instead of working consistently on a single niche.
When they give up on one skill or a platform, they start learning multiple skills randomly. And so they fail because they are unable to decide which skill they have to learn. To overcome this issue, they need to consult an experienced mentor who can guide them in a right way.
Newbies also get confused when they don't find work in a freelance marketplace. They should remember that there are many other paths and doors open for them. They just need to explore other freelance marketplaces and select the right platform to start their freelancing career.
On the other hand, companies understand that it is challenging for new freelancers to build their reputation. As a result, many companies are willing to give new freelancers a chance to prove themselves. In Pakistan, more people are enthusiastic about learning and starting freelance work because of fewer opportunities in traditional job market. Anyone may excel as a freelancer in Pakistan if they have the relevant expertise and a willingness to work hard.
In a developing country like Pakistan, freelancers are becoming more prominent in the wider economy. WorkChest is a good marketplace to start freelancing. This platform allows you to find freelance projects in Pakistan and take online jobs or freelance projects. The site offers assistance to freelancers to find projects related to their skillset.
Today, people can work from anywhere, thanks to the internet and freelance websites. You can look for freelancing jobs on various freelance platforms like guru.com, upwork.com, freelancer.com, fiverr.com, and workchest.com, etc. WorkChest, a freelancing website in Pakistan is a very popular marketplace.
In summary, Pakistan is a hub for freelancing. There are more than 1 million freelancers in the country, roughly 30% of whom are women freelancers. Pakistan has a growing economy with a progressive GDP growth rate. The estimated earning of a Pakistani freelancer is $34,000 a year, which encourages many of them to opt for freelancing as a career option.